"My work is physical, spontaneous and intuitive, particularly in the beginning stages of a painting. As a painting progresses, I become more discerning and methodical until I feel that the painting is resolved." Gail Titus
Gail Titus began her artistic career as a ceramicist, creating wall sculptures and large installation work. Eventually, however, her interest turned to surface development and texture exploration. It was a natural transition to move from clay to canvas.
Surface development is a focal point of Titus's large abstract paintings. She uses a variety of tools, brushes and techniques to create depth and texture. In the artwork for this show, a smaller format than she normally works in, Titus experimented with adding fabric and hand embroidery to build up the surface of her work, the thick layers creating interesting nooks and crannies, places for the eye to linger. It is as if, being smaller in size than her usual work, these are denser, more concentrated. We can see in the layers the fascinating history of their development. I especially like the layering of paint on top of heavy cotton lace in Metamorphosis 1. Titus has taken something traditionally soft and feminine and changed it into something strong and solid. Taking the metamorphosis metaphor a bit further, the end result of the transmutation is perhaps not so much delicate butterfly as metamorphic rock.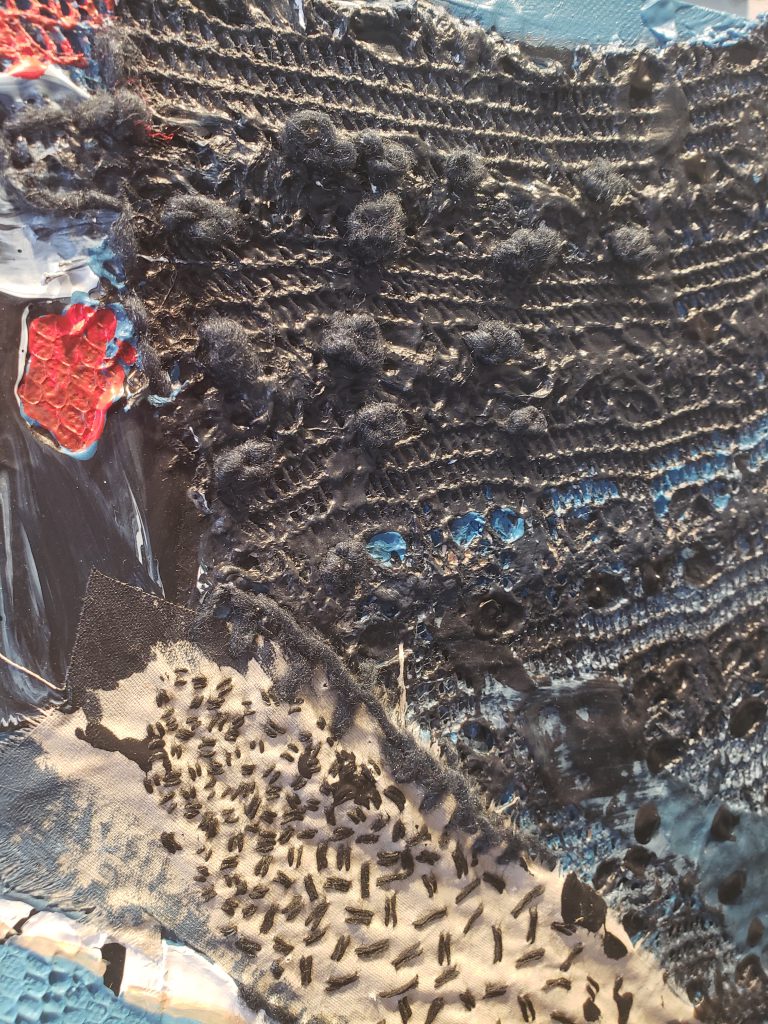 Recently, Titus has taken this new experiment further: "The stay in place orders due to the pandemic have allowed me the time to further my exploration and experimentation in my paintings. I am digging even deeper into fabric application, freeform knitting and crocheting, and applying embroidery into and onto my abstract, painted canvases. "
Titus has found the Covid19 shutdown fruitful. "Not having the usual distractions of a normal life" she says, has freed up her time to be devoted to painting. She says "As much as I long for the freedoms that existed before the pandemic, I am relishing the additional studio hours and freedom from outside distractions. The vast hours of alone, uninterrupted time lends itself to quiet contemplation regarding the development of my art."