"I love to paint, I love the challenge. I struggle with every piece, mixing paint right on the canvas, using charcoal and scratching to make lines, creating images and then destroying them. Sometimes I am satisfied with the outcome quickly and sometimes never. Painting allows me to express my emotions and/or the emotions I choose to explore. Sometimes my images are abstract, sometimes figures without facial features."
Christine Schwimmer grew up in Chicago and lived there until moving to San Diego in 1982. She lives and paints in her studio in La Mesa, California. Her passion for art began as a child growing up in a culturally and ethnically diverse city. For the past 15 years, she has pursued her passion for painting by studying at the Athenaeum School of the Arts in La Jolla and San Diego, UCSD Extension as well as the Art Academy of San Diego.
In addition to participating in Artwalk/San Diego for the last several years, Schwimmer has exhibited, donated, and sold her work throughout Southern California at both juried and non-juried venues. Her paintings are in numerous private collections. She is a member of the San Diego Art Institute and The La Jolla Athenaeum. She is inspired by artists such as Nathan Oliviera, Antoni Tapies, Franz Kline, Cy Twombly and Basquiat.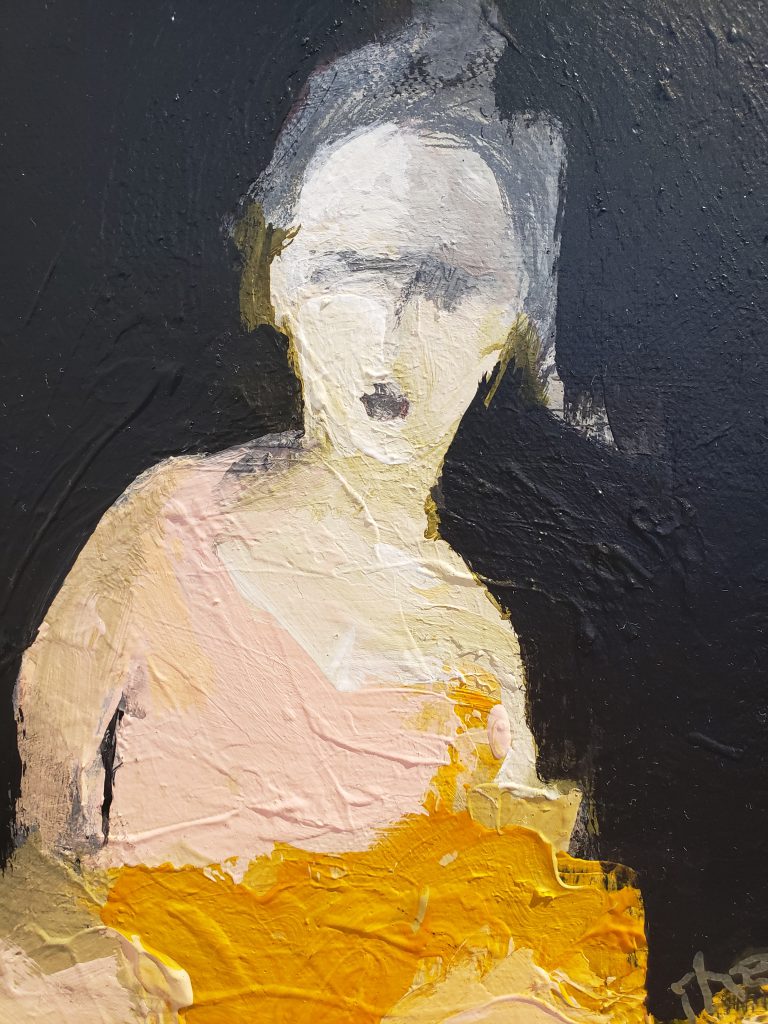 Inspired by natural and urban surroundings and drawing from life experiences, Schwimmer's paintings employ simple strokes to evoke a mood, a thought, a feeling or an emotion. Her work is narrative but open-ended; she suggests a story and leaves the narrative to be completed by the viewer. What are these people doing? What are they thinking? The four pieces in the current show are from a series called "The Future is Female." Schwimmer says "I painted the dresses using bright colors to convey female energy and emotional intelligence. I chose to use two figures as a representation that women stand together for equality and opportunity now and in the future, and demand recognition for their contributions and leadership. 'The future is female' appears in each painting as my declaration that women will have better, brighter and more equal opportunities, reminding us that each of us has a voice."