In today's blog post, sculptor Julia C R Gray writes about her work in the 20/20 show and her life under quarantine:
"I am intrigued by dichotomies of life. If I explore strength, I must also reveal vulnerability, or desire/aversion, or extinction/restoration, etc. The struggle to reveal/hide is apparent in the ceramic torsos' design. The deeply textured organic torso form contains hidden flat geometric surfaces within. I contrast red glossy glaze and gold luster details with matte oxide and underglaze hand-painted portrait narratives. I start with the vulnerability of the oceans and our bodies, balanced with the dialectic message of the power of the oceans and the strength of our bodies. I research current events, Renaissance Women Master Artists, and my own images captured during beach walks.
Shifting Sea and Community is part of a series of wall sculptures inspired by images captured during my beach walk ritual, as well as my alarm over the effects of Climate Change on the viability of the oceans. Touch/Don't Touch Me is an exploration of the Me Too Movement. I examine opposing emotions: desire, confusion, fear, the need to be touched by someone desired compared with the trauma of unwanted touch. I cannot explore one emotion without considering the opposing experience. In Sunrise Stories I focused on my love for and concerns about the ocean and environmental vulnerability/strength. Each column has underglaze painted images of seaweed and other compositions from my beach walk ritual.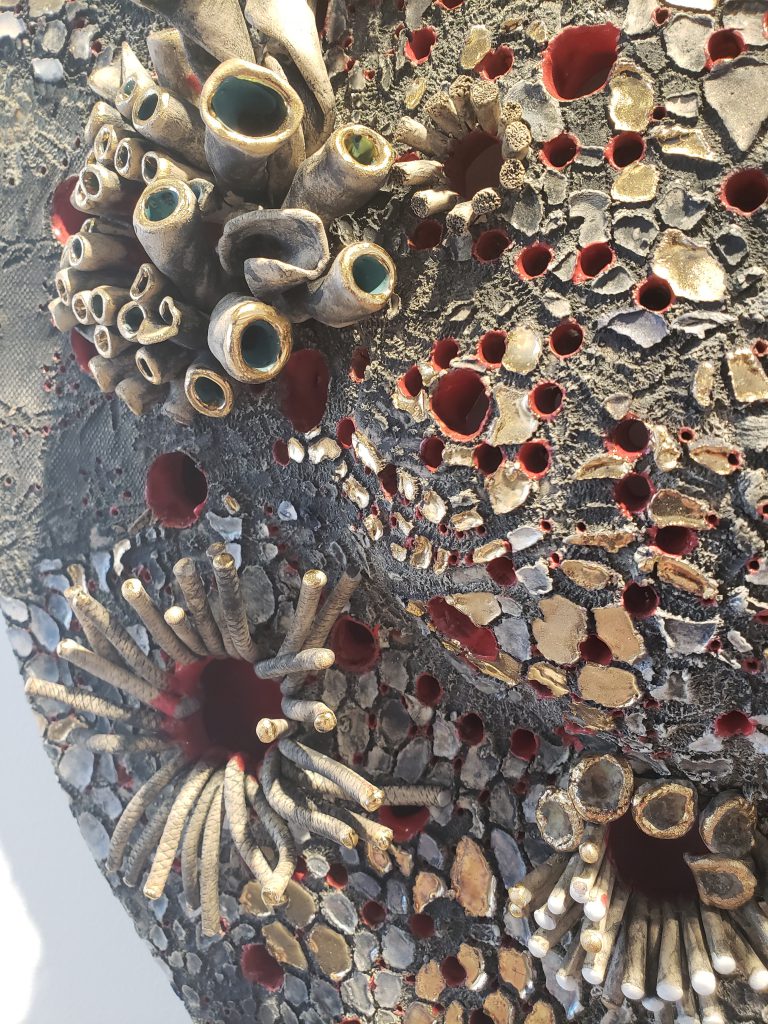 When Covid-19 first closed down California, I had mixed responses. I was concerned for the galleries and businesses that were shuttered. The art exhibitions that my work was exhibited in suddenly halted. But I was also given a gift of time in my ceramic studio, which I step into, right out my back door. I started my largest ceramic torso to date. Using hand-rolled clay coils, I am building six 40" high columns that form a huge female torso. Hand-building this large work, inch by inch, is meditative and calming. I am grateful to have my work to fill this time of chaos. I do not yet know what images I will glaze paint on the hidden surfaces. There is so much happening in our society, people are in pain. The world is finally recognizing that Black Lives Matter. And people are still dying from Covid-19. Yet, I have hope. Hope that we, as a society, will make changes to address systemic inequality. I have hope a vaccine will be made available. My challenge, as an artist, will be to sift through and decipher the multitude of changing images affecting our lives. I will continue to get in the studio each day, and just do the work."